The Road to Wrestlemania continues and so does our prediction competition. No Coast Bias editor Derek Hernandez, NCB writer Chris Hall, my grade school friend Jon Ott and my cousin Dillon Radke join me each month to weigh in on the PPV and keep a running tab on our results.
Last month's pay-per-view Extreme Rules proved to be a bit formulaic, but it still gave us some nice results. Two matches featured dusty finishes so no points were awarded for John Cena/Ryback and points were given for picking either Swagger or Alberto del Rio. Here are the standings:
| | | |
| --- | --- | --- |
| | Wins | Losses |
| Jon | 7 | 1 |
| Derek | 7 | 1 |
| Chris | 6 | 2 |
| Dillon | 6 | 2 |
| Parker | 6 | 2 |
Now onto Payback.
Pre-show: Damien Sandow vs Sheamus
Parker: Another should-be great match on the pre-show. Sheamus isn't fresh, and Sandow really is a genius with this angle. I hope he gets a decent push.
Damien Sandow
Dillon: Sheamus
Chris: Sheamus must have made Triple H mad at the gym to be the pre-show match but I doubt he made him mad enough to lose this one.
Sheamus
D: Sheamus
Jon: Sheamus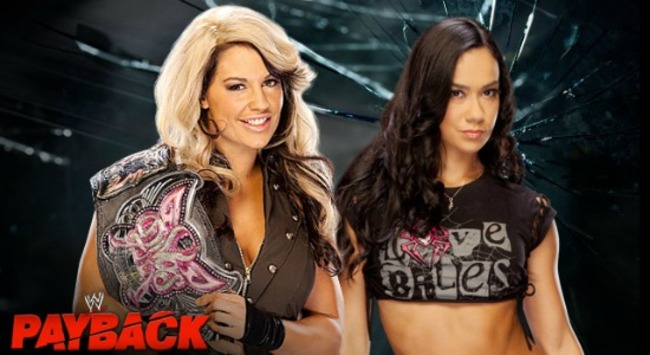 Kaitlin (c) vs AJ Lee (Diva's Championship)
Parker: Remember when the Divas division featured wrestlers who were allowed to wrestle? The division is a joke, and I don't care about this match at all. However, I think AJ wins so she and Ziggy each have a belt. I totally saw the Big E thing coming, but this makes for good match build.
AJ Lee
Dillon: AJ
Chris: I don't know about the rest of you but I dig crazy chicks.
AJ Lee
Jon: AJ over whatever her name is with sme slight help from Big E.
D: AJ
Wade Barrett (c) vs Curtis Axel vs The Miz (Intercontinental Championship)
Parker: I have no idea what Axel is in this match; The Miz/Barrett rivalry has been built since Wrestlemania. Axel will continue his winning ways but not get the title likely due to a double countout.
Curtis Axel
Dillon: Curtis Axel
Chris: I love my home state of Ohio which usually makes me side with The Miz and in my opinion he is the best star power in this match but I think it is time for Curt Hennig's son to be relevant.
Axel
Jon: This ones tough. It's not the Miz with his air humping figure four. Could it be Curtis Axel? I don't know, he was thrusted into this match after Fandango went out with concussion…..I'm saying Wade retains after Curtis gets distracted by a Triple H appearance.
Barrett
D: Axel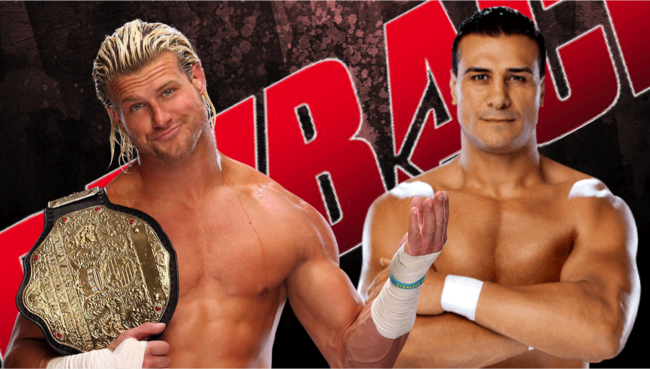 Dolph Ziggler (c) vs Alberto del Rio (World Heavyweight Championship)
Parker: If this rivalry is going to continue, del Rio has to win this match. Ziggler can always use the concussion scape goat. Plus it will be interesting with all the Kaitlin/AJ aftermath. Still, I think both have the belts after tonight.
Ziggly Puff
Dillon: Ziggler
Chris: I am tired of del Rio at this point and since I picked against The Miz. I will make it up by picking another Buckeye to win this match.
Dolph Ziggler
Jon: This is simple.
Dolph
D: Zig Zag Man
Dean Ambrose (c) vs Kane (US Championship)
Parker: Ambrose continues his push, and I think this sets up for a great Ambrose/Bryan feud.
Ambrose
Dillon: Ambrose
Chris: Is it just me, or is the writing team at WWE not qualified to carry out this awesome story of The Shield. Even a bad writing team can tell this story.
Dean Ambrose
Jon: Another easy one.
Ambrose
D: Ambrose
The Shield: Reigns and Rollins (c) vs Daniel Bryan and Randy Orton
Parker: Nobody is performing better right now in the entire company than Daniel Bryan. He will steal the match again, but it won't be enough to overcome chemistry.
Shield (legitimately)
Dillon: The Shield
Chris: The WWE would be wise to keep Bryan at the top of the card and I do expect him to be Cena's next challenger but like I said this story is awesome and will continue.
The Shield
Jon: Reigns and Rollins. But another strong showing from Bryan as they gear him for a big summer and fall.
The Shield
D: Shield
Chris Jericho vs CM Punk
Parker: I have gone back and forth on this one. If Y2J wins, it continues this depressive downward spiral for CM Punk (especially since it's in Chicago), and that could be a great angle for him. If Punk wins, it Jericho likely goes back to music for a while with a 1-2 record at PPVs since his return.
CM Punk
Dillon: CM Punk
Chris: Best in the World? Does anyone out there really believe this crap? Jericho is a part timer and Punk is not so let's go with the full time guy.
CM Punk
Jon: Tough one. The returning Punk is a heel, but Payback is in Chicago. He will be cheered out of the building as a returning gladiator. To get out of this bind I'm gonna go with this: Punk no shows, Jericho by default wins. Tomorrow or later on Raw Punk returns as face and ditches Paul E and gets jumped by Brock. Setting up Brock/Punk for Summerslam.
Jericho (default)
D: Punk if he actually shows up. If not, I'll take his replacement.
John Cena (c) vs Ryback (Three Stages of Hell match for the WWE Championship)
Parker: I really don't care. The lumberjack match should have already happened. Ambulance matches are pretty bad. With a very limited move set for each, I don't know who carries this match. I just can't see Ryback with the belt.
Super Cena
Dillon: Cena
Chris: Ryback may have his day but this will not be it. And it may never happen if all he can muster on the mic is "Feed Me More" and "Ryback Rules" which sounds like the plant from Little Shop of Horrors and the family from Billy Madison. The great champions can work the mic and the mat. Ryback doesn't do either very well.
John Cena
Jon: Easy. Cena going over. Probably will fall in the first match but somehow muster the amazing strentgh to beat Ryback two in a row.
Cena
D: Cena