Tonight marks one of my favorite events on the WWE calendar: Money in the Bank. It's like King of the Ring, but with higher stakes and a better gimmick. The Otter, Jon Ott and I went 30 minutes on this topic on an episode of Coach and Crew.
Here's how our Five Man Band did at Payback, the second pay-per-view on the Road to Wrestlemania Challenge:
| | | |
| --- | --- | --- |
| Payback | Wins | Losses |
| Derek | 7 | 1 |
| Chris | 7 | 1 |
| Dillon | 7 | 1 |
| Parker | 6 | 2 |
| Jon | 5 | 3 |
And the standings overall:
| | | |
| --- | --- | --- |
| Total | Wins | Losses |
| Derek | 14 | 2 |
| Chris | 13 | 3 |
| Dillon | 13 | 3 |
| Jon | 12 | 4 |
| Parker | 12 | 4 |
Now onto the predictions for Money in the Bank.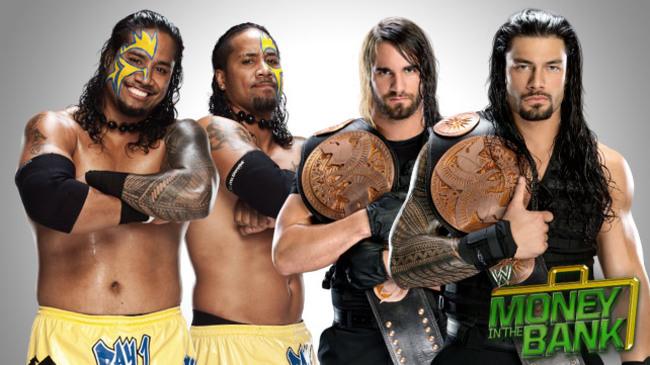 KICKOFF SHOW Tag Team Championship Match: The SHIELD (Roman Reigns and Seth Rollins) vs The Usos
Parker: This is another great way to kickoff a show. The SHIELD are hot, but the rest of the tag team division is … well … it's there … sort of. The Usos are talented, and one of my favorite things about The SHIELD (Rollins especially) is their ability to sell and put together a match. Hopefully this will be an entertaining match.
The SHIELD
Jon: SHIELD
Dillon: SHIELD
Chris: For the Kickoff Show Tag Team Title match I just don't see WWE ruining the momentum of The Shield this early so The Usos will have to wait. THE SHIELD wins.
Derek: SHIELD
Money in the Bank Ladder Match for a World Heavyweight Championship match contract: Wade Barrett, Cody Rhodes, Damien Sandow, Dean Ambrose, Fandango, Jack Swagger and Antonio Cesaro
Parker: I just wish there was more firepower in this match, and I've become torn over who will actually come out on top. Fandango was booked to win the IC belt before his injury so he could get a push there, especially since Ambrose already has a belt and a push. The Rhodes Scholars deserve a push. Wade Barrett is doing everything right aside from suck up to Vince. Cesaro is just in gimmick limbo, and Swaggy J is nothing but a jobber since his return.
Ambrose will further show The SHIELD's dominance. (But my dark horse is Fandango.)
Jon: Ambrose
Dillon: Ambrose
Chris: I believe this is a toss up between Shield member Ambrose and former NEXUS leader Wade Barrett. Since Ambrose has the better faction story he should win. DEAN AMBROSE.
Derek: Rhodes
Intercontinental Championship Match: Curtis Axel (c) vs The Miz
Parker: I just struggle buying Axel right now. I hope the Miz gets a good match for us.
Curtis Axel (I really want the Perfect Plex to be his finisher.)

Jon: Axel
Dillon: Axel
Chris:  I am an Ohio guy and although I loved Mr Perfect I have to go with the man who helped push the WWE during a bad period. THE MIZ wins plus his girlfriend is way hotter than Paul Heyman.
Derek: Axel
Jericho vs Ryback
Parker: Ryback has grown tiresome. He's just another meathead given too much mic time. Would have been great in the territories, but is boring now. Jericho is the best in the world at what he does, and what he does is put people over.
Jericho
Jon: Ryback
Dillon: Jericho
Chris: Ryback
Derek: Ryback
World Heavyweight Championship Match: Alberto del Rio (c) vs Dolph Ziggler
Parker: Ziggly Puff better get his belt back so they can have the power couple. Double prediction: I don't think it lasts long.
Dolph
Jon: Del Rio
Dillon: Dolph
Chris: A little Cleveland, Ohio flair to this event as Dolph Ziggler also takes home the gold strap.
Derek: Del Rio
Money in the Bank Ladder Match for a WWE Championship match contract: CM Punk, Daniel Bryan, Randy Orton, Rob Van Dam, Christian and Sheamus
Parker: With Kane out of this match due to the Wyatt Family's arrival, it's a little less interesting for Daniel Bryan. I know many still see the Big Red Machine making his presence felt in this match, but I feel his absence will help Bryan prove he can do it on his own. I do, however, see Brock Lesnar making his presence felt, keeping CM Punk from yet another big Money in the Bank victory. I'm looking for some good spots from RVD and Christian (hopefully leading to "One More Match" for both at Summer Slam), but the show stopper will be the Goat Faced Killah himself.
Daniel Bryan
Jon: Bryan
Dillon: Bryan
Chris: If they give this to RVD I would be ticked and we have seen Punk, Orton and Sheamus battle Super Cena so YES YES YES Daniel Bryan is your winner tonight.
Derek: Bryan
WWE Divas Championship Match: AJ Lee (c) vs Kaitlyn
Parker: I really love what AJ has done for the Divas ranks, and I think it only gets better when she drops the belt to Kaitlyn, setting up the rubber match at Summer Slam.
Kaitlyn
Jon: AJ
Dillon: AJ
Chris: This is no Trish and Lita match but since we are picking I'll take Kaitlyn to gain gold again.
Derek: AJ
WWE Championship Match: John Cena (c) vs Mark Henry
Parker: I really miss 2012 when CM Punk was in title matches instead of Cena. I feel I'm going to enter the Hall of Pain just by watching this match.
Super Cena (along with 84% of people on the WWE.com poll)
Jon: Cena
Dillon: Cena
Chris: I will not hide by love for Cena. Nor did I with Hogan in the 80's. But let's look into the future can Mark Henry actually carry Summerslam? I say NO WAY Cena doesn't win a tough one tonight.
Derek: Cena