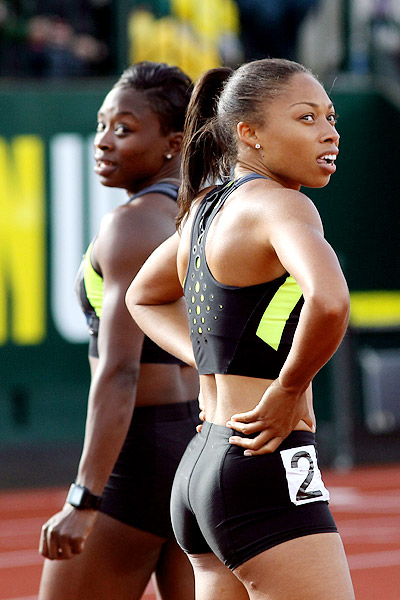 The USA Track and Field officials were meeting late into the night trying to figure out something they've never encountered…..a tie.
This tie is a special circumstance because it determines the final spot for the USA Olympic team.
Yesterday, in the Olympic Trails for track and field, the women's 100m third place finish is in a dead heat.  Carmelita Jenner took first place in 10.92 seconds. Tianna Madison placed second and orginally Jeneba Tarmoh was declared the third place finisher.
The results were reviewed and it was determined that Allyson Felix and Jeneba Tarmoh actually tied.  Officials viewed the results from two official camera angles and still came to the same conclusion.
The 100m wont be the only showdown between Felix and Tarmoh, both are declared for the 200m as well.
While Track and Field officials haven't come up with a solution, we at NCB have a list of competitions Felix and Tarmoh could do and determine:
Rock, Paper, Scissors
Thumb Wrestling
Hot Dog Eating Contest
Breakin' dance contest
Sienfield Quote Contest
I personally would love to see a Breakin' contest, but what do you think? Leave a suggestion here and tell the world using hashtag #olympictiebreaker.
Related Posts via Categories