The baseball gods have blessed us twice this MLB season. Earlier this year, Rougned Odor rather memorably punched Jose Bautista right square in the face.This past Tuesday, Manny Machado punched Yordano Ventura. If baseball is America's pastime, then a spontaneous occurrence of violence you cannot look away from is America's other pastime. Put them together, and brother, you may have the most patriotic thing to ever exist in this universe.
For whatever reason, watching baseball players fight is such an invigorating experience. It just fills me with life. And I am someone who shies away from violence as a means to solving anything (unless of course your name is Jack Bauer and The Terrorists are going to nuke the country if you don't waterboard this guy right here, right now.) So, why are fights between millionaires wearing polyester uniforms so damn entertaining?
Perhaps it is because watching baseball is, generally speaking, such a tame affair.
Then, when real human emotion spills over into the game, and the fists (or in the case of Bert Campaneris in the 1972 ALCS, bats) start flying, we encounter a sudden burst of violence so unlike anything we are conditioned to seeing in the sport. Thus, an experience that is equal parts exhilarating and memorable, is created. 
A great fight or brawl is rarely forgotten. Robin Ventura put together quite a nice career over 15 seasons. But, as much as his Grand Slam Single in the 1999 NLCS is the stuff of legends (at least for Mets fans) he is really best known for the iconic image of being caught in a Nolan Ryan headlock, while Ryan pummels him in the skull. (Disagree? Then why did they both sign this photo of Ventura getting pummeled in his aforementioned skull?) Of course, there is Pedro Martinez throwing Don Zimmer to the ground during the 2003 ALCS, the most horrified my teenaged self had ever been by one man's actions, and an image that haunted my dreams for months. Or how about this: Take a picture from a baseball fight, and present it without context, and it is still a great picture. Coco Crisp dodging a punch from James Shields? Great without context. John Doherty not dodging a kick from Sandy Alomar Jr.? Great without context. Hell, even the intra-team brawl in Major League 2 is one of the more memorable scenes of that movie.
Might as well face facts, unless Rougned Odor single-handedly lifts the Rangers to a World Series title, there is a very good chance the hit he will be best remembered for will be the time he punched Jose Bautista in the face. And if he does do that, we will all probably still say, "Yeah, batting 1.000 for an entire World Series was great, but remember that time he clocked Jose Bautista so hard he knocked his helmet and sunglasses off?" On the other hand, Manny Machado will probably be able to move past this, if only for the reason that we did not get multiple, high-quality angles, and slow-motion replay of him socking Ventura. We Americans love violence, we revel in it. Two of our most popular television shows (Game of Thrones and The Walking Dead) are unabashedly, graphically violent. One of the candidates nominated for President has had numerous violent acts at their rallies. I wrote this post glorifying violence in baseball… Actually, can we see that slow-mo replay of the Odor punch?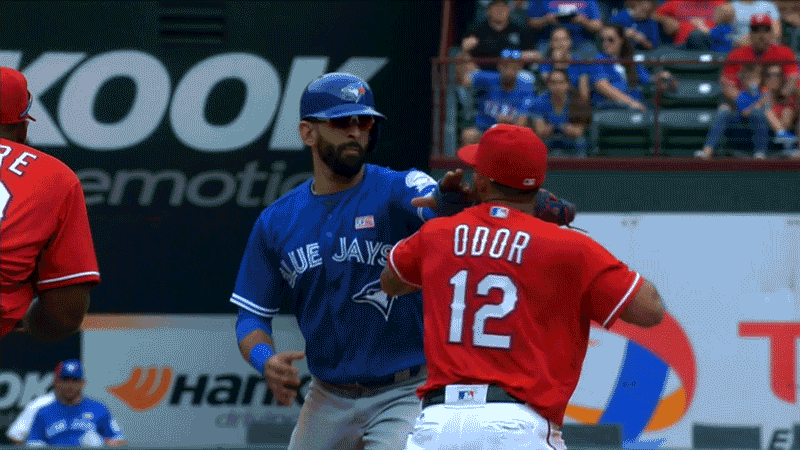 Yeaaahhh, that'll satisfy the ol' blood lust.